Do you have that friend or family member who posts online all too frequently about their business and solicits everyone on Social Media to join their opportunity? Do they ask you to help them with their goals by purchasing products? How do you feel when you see that? Do you get annoyed? Do you dismiss the posts?

Now let's reflect real quick. When you post about YOUR business, are you doing the same thing? What kind of interaction are you getting from those posts?

When we post about our business, of course we're so excited and proud of them. We take sweet time in making the coolest ads to share on Facebook, Twitter, Instagram, etc. But we get very little likes and interaction. We may be proud of our handiwork, but the reality is, nobody cares! It's like seeing a commercial on TV or a sponsored ad on Social Media. We tend to tune them out and scroll past them because we don't like being sold to.
​

Stop Spamming People and Start Providing Value!

It's time to change our mentality of selling to serving

. We must serve VALUE to our customers. What knowledge can we share to our followers, family, and friends? What will be helpful to people?

Why would we want to do this, you say? Because people will pay attention to information that will help them. People will begin to trust you and engage with your posts. You will gain credibility and authority in your field. So, help people and in return you will help yourself!

I'm in the health and wellness niche. Some valuable information I can share are healthy recipes, exercises I enjoy, latest news I come across, and motivating quotes, just to name a few. What niche are you in? What can you post about?

Just because it's not wise to puke your business all over people doesn't mean you can no longer post about your business altogether! You still can, but keep majority of your posts around providing value. A good rule to follow is the 90/10 rule. For example, on Facebook, have 9 posts that provide something of value and the 10th can be about your business. On Twitter, since it's a micro-blogging platform that you can post on more frequently, for every 4 posts the 5th post can be something you promote! This is just a suggestion and you don't have to follow it rigidly, but remember to share information that people can benefit from without the intention of selling something.

I hope you enjoyed the blog post today about generating more engagement for your business on Social Media. Please like, comment, and share the info! It would be much appreciated!

Would you like to learn about Facebook marketing for your home business? CLICK HERE here to gain access to the training!

Was this post valuable to you? If so...I'd LOVE for you to

comment below and share on Social Media!

Best,

​
Powered by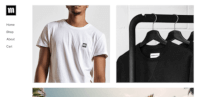 Create your own unique website with customizable templates.